Episodes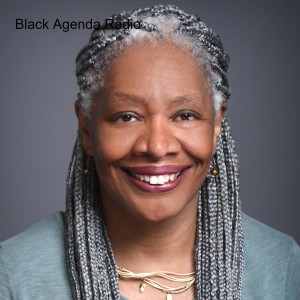 Monday Oct 02, 2017
Monday Oct 02, 2017
Welcome to the radio magazine that brings you news, commentary and analysis from a Black Left perspective. I'm Glen Ford, along with my co-host Nellie Bailey. Coming up: an activist with the Black Alliance for Peace urges anti-war and environmental groups to make their movements look more like the people of planet Earth; and, the chairman of the Jericho Movement talks about the plight of America's aging political prisoners – in particular, the attack on former Black Panther Herman Bell.
The media is full of discussion, nowadays, about racist behavior, but not much attention is paid to the actual material conditions of Black life in the United States. Black Agenda Report contributor Danny Haiphong recently wrote an article on the precarious financial state of Black families. It's titled, "Black America: The Wealth-less Community."
Peace and environmental activists came together for an historic conference in Washington DC, to explore ways to strengthen collaboration between the two movements. One of those on hand was Rev. Lukata Mjumbe, a Black minister in Irvington, New Jersey, and veteran human rights and environmental justice activist. Rev. Mjumbe is on the coordinating committee of the Black Alliance for Peace.
The Jericho Movement does its best to represent the interests and welfare of political prisoners in the United States. The Jericho Movement's list is shrinking, not because the U.S. isn't creating new political prisoners, but because activists incarcerated in the Sixties and Seventies are dying off. The surviving imprisoned radicals still catch hell from prison guards. Sixty-nine year old former Black Panther Herman Bell was seriously injured when he was attacked by New York State prison guards, last month. Black Agenda Radio producer Kyle Fraser spoke with the chairman of the National Jericho Movement, Jihad Abdulmumit.
The news on corporate media is largely fake or non-existent, but there are a few broadcast outlets that serve the people's information needs. One of them is WMXP radio, in Greenville, South Carolina, which is run by the folks at Greenville's Malcolm X Center for Self-Determination. Veteran people's lawyer and activist Efia Nwangaza is the Center's executive director.
And that's it for this edition of Black Agenda Radio.