Episodes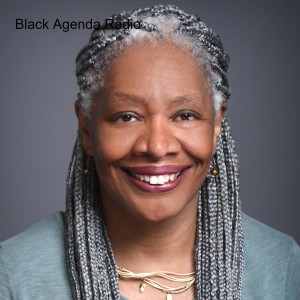 Monday Feb 22, 2021
Monday Feb 22, 2021
Welcome to the radio magazine that brings you news, commentary and
analysis from a Black Left perspective. I'm Margaret Kimberley, along with my co-host
Glen Ford. Coming up: Black people in Britain go to prison at roughly the same rate as
African Americans, and British activists are also demanding prison and police abolition.
Dr. Gerald Horne says the United States is finding out that it's no longer a uni-polar
world, with Washington in command of everybody else. And, we'll hear two essays from
prisoners of the American Mass Black Incarceration Regime.
But first -- SAHM-ah Mcgona SEE-say is a Justice Fellow at the Center for
Constitutional Rights, and an organizer with the group called "Survived and Punished."
Police claim they are the force that fights for the rights of victims. But in fact, says SEE-
say, the police, prosecutors and prisons only create more victims. She explains.
Many Americans are unaware that Black people in Great Britain have a long history of
urban rebellions against racist policing. We spoke with Dr. Elliot Cooper, a Research
Associate at the University of Greenwich, who sits on the board of The Monitoring
Group, which challenges state racism and racial violence. Dr. Elliott-Cooper is co-author
of a scholarly article on Britain, race and the criminal justice system, titled "Moral
Panic(s) in the 21 st Century."
Dr. Gerald Horne is professor of History and African American Studies at the University
of Houston. Horne, a prolific author, was interviewed on a Sputnik Radio program
hosted Dr. Wilmer Leon the Third, in Washington. Dr. Leon noted that president Joe
Biden has been making noises about maintaining strong US economic sanctions
against governments he doesn't like, and insisting that US allies go along with
Washington's dictates. But, Europe seems tired of being bossed around the U.S, as Dr.
Horne explains.
This week, we're featuring two items from deep inside the U.S. prison Gulag. Laura
Taylor is locked up in the Pennsylvania state penal system. She's composed a
message to the guards that boss her around every day and night. Ms. Taylor calls it a
"Resignation Letter."